ICCL has been closely monitoring the restrictions on human rights and fundamental freedoms since the Covid-19 pandemic reached Ireland.
Sign up here to receive updates via email.
Week One: 13 – 20 March 2020
On 13 March, the Taoiseach closed schools and advised anyone who could work from home to do so. On 18 March, emergency legislation was rushed through the Oireachtas to deal with the pandemic. ICCL, through media and advocacy work, ensured a sunset clause of 9 November on this unprecedented piece of legislation.
Update 1: ICCL secures sunset clause in emergency legislation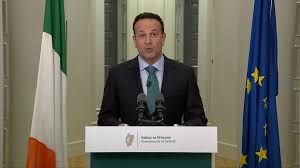 Week Two: 21 – 27 March 2020
On 24 March new measures were announced. People were asked to stay at home except if they were an essential worker. Businesses, sports clubs and religious organisations were all shut. People were asked to limit their close contacts to a handful of people. ICCL welcomed the broad range of supports brought in to support people affected by these restrictions, including the pandemic payment, rent freeze and the ban on evictions.
Update 2: ICCL analysis of more legislative changes
Week Three: 28 March – 3 April 2020
As the restrictions continued, people were asked to stay at home except to shop for essential items, exercise within 2km of home, or travel to essential work. ICCL continued our call for human rights to form the response to the pandemic. We were particularly loud about the need to protect at-risk communities.
Update 3: ICCL calls for special protection for at-risk communities
Week Four: 4 – 10 April 2020
This week marked a significant departure in the government response to the pandemic as garda powers of arrest and detention were introduced on 8 April. We called on gardaí to avoid using these draconian powers. We also called for a human rights analysis to determine if these powers were necessary or proportionate.
Update 4: ICCL opposes the move from policing by consent to policing by force
Week Five: 11 – 17 April 2020
Having originally been introduced for just four days, the garda powers were extended without fanfare. We called for figures on the use of these powers to be published, and used to analyse whether a further extension would be necessary.
Week 5: ICCL calls for analysis and debate before any extension of powers
Week Six: 18 – 24 April 2020
Difficulties with the garda enforcement powers became more apparent, as protests across the country were met with very different responses from police. This week ICCL launched our call for a Human Rights Impact Assessment to identify the groups most at-risk not just from the pandemic but also from the restrictions and garda powers.
Update 6: ICCL calls for protection for protesters and at-risk groups
Week Seven: 25 April – 1 May
We wrote to the Garda Commissioner about a number of serious issues we identified, including armed gardaí at checkpoints and introduction of spit hoods. We also joined forces with data protection experts to demand transparency from the HSE on the imminent contact-tracing app.
Update 7: ICCL writes to gardaí and HSE
Week Eight: 2 – 8 May 2020
Reports emerge of people being locked into a Direct Provision centre at Cahersiveen. Garda powers of enforcement are extended without publication. Work continues apace on the HSE's contact-tracing app, without publication of any data protection assessment.
Update 8: ICCL continues to fight all corners
Week Nine: 9 – 15 May
As the country slowly began to reopen and an Oireachtas Committee was established to look at the response to the pandemic, ICCL kept pressure on regarding garda powers, at-risk groups, and the contact-tracing app.
Update 9: ICCL directs advocacy work to Oireachtas
Week Ten: 16 – 22 May
As renewal of the garda regulations were once again shrouded in secrecy, we called on Minister Harris to show evidence of the necessity, proportionality and legality of the measures, as required by human rights law. We wrote to the Minister separately about the HSE contact tracing app.
Update 10: ICCL calls for first principles of human rights law to be respected.
Week Eleven: 23 – 29 May
Having never seen any test to show necessity, proportionality or legality of the garda powers, we strengthened our call for them to be ended in phase two of reopening. We monitored the Oireachtas Committee as they discussed nursing homes and Direct Provision. And we asked hard questions about the introduction of mandatory passenger locator forms at points of entry.
Update 11: Renewed and strengthened call for an end to garda powers of enforcement
Week Twelve: 30 May – 5 June
We published 9 principles that the HSE contact-tracing app must adhere to in order to protect rights. We raised our voice ever louder in calling for an end to garda powers and began to see some real political traction. We supported the leaders of the Black Lives Matter protests when they were threatened with prosecution.
Update 12: Political advocacy begins to bear fruit
Week Thirteen: 6 – 12 June
Once again under cover of darkness, the new garda regulations were introduced. But this time it was good news! Garda powers of enforcement (arrest) for movement had been removed – something ICCL had been advocating for all along. Worryingly for protesters, it could still be a crime to organise a gathering of more than 15 people.
Update 13: Garda powers of enforcement removed!
Week Fourteen: 13 – 19 June
ICCL met with the Minister for Health and raised a number of issues with him, including the contact-tracing app; the need for better data regarding people who are at-risk and consideration of human rights while legislating.
Update 14: ICCL meets Minister for Health
Week Fifteen: 20 – 26 June
Together with Amnesty, we wrote to the Garda Commissioner about spit hoods – again. We hosted a webinar on the contact-tracing app, and welcomed the publication of the app's DPIA before launching, as we had called for.
Update 15: ICCL hosts webinar on contact-tracing app
Week Sixteen: 27 June – 3 July
ICCL gives the contact-tracing app a C+. We outline our specific concerns about privacy, efficacy, necessity, and proportionality.
Update 16: Contact-tracing app gets a C+ from ICCL.
Week Seventeen: 4 – 10 July
In the week that the HSE finally launched its contact-tracing app, and it was downloaded by almost a million people, our concerns about privacy and efficacy received extensive media coverage.
Update 17: ICCL highlights privacy and efficacy concerns with HSE app
Week Eighteen: 11 – 17 July
As mandatory quarantine continues to be discussed, ICCL highlighted the difficulties with such a system from a human rights perspective.
Update 18: ICCL concerned at calls for mandatory quarantine
Week Nineteen: 18 – 24 July
As the covid-tracker app continues to be rolled out, we express our concern at the technology into which the app sits, which sends personal information to google every six minutes.
Update 19: ICCL concerns about tech underlying covid app
Week Twenty: 25-31 July
It emerges that the Department of Social Protection have cut hundreds of people off from the Pandemic Unemployment Payment (PUP) because they have been abroad. ICCL objected in the strongest terms and by the end of the week the government had performed what it called a U-turn and said people travelling to green list countries would not be cut off. Nonetheless, many worrying discriminatory provisions remained.
Update 20: Government u-turn on PUP following ICCL concerns
Week Twenty-One: 1-7 August
ICCL reiterated our call for a human rights assessment to protect vulnerable groups. We also hosted a webinar on data protection in a post-pandemic world.
Update 21: ICCL again calls for protection for at-risk groups
Week Twenty-Two: 8 – 14 August
ICCL highlights difficulties for people living in Direct Provision.
Update 22: Direct Provision still of serious concern
Week Twenty-Three: 15-21 August
The week of Golfgate. And, amidst growing case numbers, it was suggested that garda powers would be reintroduced. ICCL loudly opposed the move. This week it also emerged that the Department of Justice was monitoring the social media accounts of activists, including ICCL, who are against Direct Provision.
Update 23: Government moots reintroducing garda powers
Week Twenty-Four: 22-28 August
This was the week where government suggested giving gardaí powers of enforcement to limit gatherings in the home to six people. ICCL strongly opposed the move and government was forced to row back
Update 24: ICCL successfully opposes garda powers on gatherings in the home
Week Twenty-Five: 29 August – 4 September
Entering surreal territory, government introduced legislation requiring "dry pubs" and restaurants to keep receipts regarding customers' meals for 28 days. ICCL called out the invasion of privacy, and we demanded to see the tests for the necessity or proportionality of the measure. Amid the public outcry, the Health Minister is forced to clarify a number of points.
Update 25: ICCL decries new legislation which invades privacy without good reason.
Week Twenty Six: 5-11 September
This week, ICCL's Liam Herrick & Doireann Ansbro took part in the Oireachtas Special Committee on COVID-19 response session on human rights & civil liberties considerations, making 7 recommendations to improve human rights protections in the State response to the pandemic. We also queried the powers used by gardaí in the arrest of Debenhams protesters on 9 September. Our opposition to spit hood use was covered by the Sunday Business Post.
Update 26: ICCL appears before the Special Oireachtas Covid-19 response Committee

Week Twenty Seven: 12-18 September
This week saw the government unveil a 5 level plan for living with COVID-19 for the next 6-9 months. To much confusion, Dublin was initially placed on level 2 with the rest of the country before being reclassified at level 3 by the Taoiseach in a live televised address to the nation on Friday evening from midnight. In response to the Policing Authority report which found that spit hoods had been used on children of unconfirmed age & on people with perceived mental health issues, we issued a joint press release with the Children's Rights Alliance calling for cessation of their use, which is currently under review by An Garda Síochána. Our concerns at violence at far-right demonstrations remain unaddressed and, at this point, we are still awaiting a response to our 22 August letter to the Garda Commissioner. Our Policy Officer Olga Cronin moderated a webinar on the use of facial recognition technology at protests on Thursday.
Update 27: ICCL and Children's Rights Alliance call for an end to use of spit hoods
Week Twenty Eight: 19-25 September
Dublin and Donegal were placed on level 3 this week with regulations in effect until 10 October. At this level event organisers (with more than 50 people indoors and 100 people outdoors in attendance) can be fined up to €2,500 and/or face imprisonment of up to six months. Donegal is to remain at level 3 until 18 October. This week, ICCL wrote to the Taoiseach calling for the retention of advances made during the pandemic in terms of economic and social rights protections, and to the Chair of the new COVID oversight Committee reiterating our recommendations to the Special Oireachtas Committee on improving the State COVID- response from a human rights perspective. This week also saw The Irish Times view article echo our view that spit hoods should be dropped from the garda kit.
Update 28: ICCL calls on government to retain pandemic protections for economic rights
Week Twenty Nine: 26 September-2 October
While we were encouraged by Garda Commissioner's expressed commitment to the principle of engagement over enforcement and the sparing use of powers this week also saw the publication of garda figures showing that over a quarter of gardaí are armed. During the pandemic, we received numerous reports on the presence of armed gardaí at covid checkpoints and repeatedly called for public debate on this issue. Social media footage of young people congregating in university towns have been the subject of much public and media criticism this week. ICCL questioned the necessity and appropriateness of the calls for using the criminal justice system to enforce public health measures.
Update 29: ICCL again questions the wisdom of using the criminal justice system to enforce public health guidance
Week Thirty: 3-9 October

The entire country joins Dublin and Donegal on level 3 from midnight on Tuesday until 27 October, following much public concern on the back of leaked NPHET recommendation of a move to level 5. We welcomed the inclusion of some our recommendations in the Oireachtas Committee's Final Report, including that all legislation should be human rights proofed, the importance of broad Oireachtas pre-legislative consultation, and of clear and effective government communication. The week culminated with the decision by the Cabinet Covid-19 sub-committee to introduce graduated fines for non-compliance with movement restrictions. We oppose the introduction of fines on the basis that they are ineffective, disproportionately impact the poor and expensive to administer.
Update 30: Oireachtas Covid Committee refers to many ICCL recommendations in its final report
Week Thirty One: 10-16 October
Taoiseach Mícheál Martin announces a nationwide ban on household visits and level 4 restrictions for border counties. This follows the decision by the Northern Ireland Executive to close schools for two weeks and bars and restaurants for four weeks. The government will consider NPHET's latest recommendations (including a nationwide move to level 5) and An Garda Síochána are set to roll out a high-visibility policing operation to encourage people to remain within their county borders.
Update 31: ICCL continues calls for engagement, encouragement and education on the public health guidance
We can't do this without you. Please consider joining ICCL.