Dublin, 29 April 2019
On 30 April, as part of Dublin UNESCO's One City One Book, a coalition of human rights and arts organisations will come together to call for the immediate repeal of the Censorship of Publications Act.
One year after the forced removal of Maser's repeal the 8th mural at Project Arts Centre a number of speakers – including writer Una Mullally, Cian O'Brien, artistic director of Project, and Beth Hayden of Glitter HOLE – will address their experiences of censorship and self-censorship.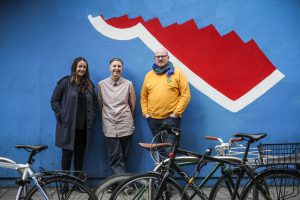 In 2018, the ordered removal of Maser's Repeal the 8th mural and the cancellation of Mullally's The Question of the Eighth brought censorship of the arts to the fore yet again. In April of this year DIY drag collective Glitter HOLE announced that they had been forced to cancel their age-appropriate Drag Storytime event at the Lexicon Library due to 'archaic homophobia' and violent threats against them. In presenting the reason for cancelation as "an age-appropriate review", DLR did little to protect and promote free speech as is their duty as a state body.
Sign the petition to Repeal the Censorship Act
In 1929 the Irish Free State Government passed the Censorship of Publications Act, which created the Censorship of Publications Board. In 2019, this Board still has the authority to prohibit any book or periodical that they find to be obscene. Ireland has seen ground-breaking referendums on marriage equality, abortion, and blasphemy. Now our coalition is calling for the repeal of the Censorship of Publications Act, in the name of personal freedom and mutual respect.
Mullally, Glitter HOLE and O'Brien will be joined for debate on the day by Lian Bell, campaign director of Waking the Feminists, historian Donal Fallon, broadcaster Evelyn O'Rourke, arts campaigner Angela Dorgan, NCAD professor Declan Long, and poet and barrister John O'Donnell. The event will take place over two panels with an intermission discussion featuring exiled Turkish theatre group Be Aware. There will be built-in space for audience input to the discussions.
The Best Banned in the Land event is part of the Dublin: One City One Book festival. It is the result of collaboration between the Irish Council for Civil Liberties, the Irish Writers Centre, Poetry Ireland, the Writers' Guild and Project Arts Centre. It is kindly sponsored by Dublin UNESCO City of Literature.
ENDS/
See more of ICCL's work for freedom of expression
For media queries and press invites:
Sinéad Nolan: 087 4157162
Eimear O'Reilly: eimear@projectartscentre.ie