In our latest newsletter we bring you a round-up of what we achieved together in late 2019, with a particular focus on activism and protest.
We hosted two packed events during the period. The UN Special Rapporteur on Extreme Poverty Philip Alston spoke about the surveillance of people living in poverty, citing the Public Services Card as an example.
And David Carroll, the man who sued Cambridge Analytica, spoke on a panel of online activists to an audience of people working in the Dublin tech industry.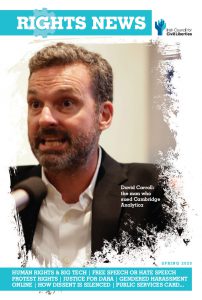 We finally saw some traction on the Public Services Card when the Data Protection Commissioner declared key functions of the card illegal. We're now tantalisingly close to having the system abolished altogether.
We connected our campaign on gendered online harassment with the Quigley family's campaign for Justice for Dara, with real results. We're all indebted to Dara's mother Aileen for her bravery in speaking out.
We stood strong against the introduction of garda bodycams. In the face of huge government and garda opposition, we maintained that the reported benefits far outweighed the definite infringements on our fundamental rights.
We were met with opposition from other quarters when we called for safe zones outside abortion providers. Similarly when we took a stance on hate speech. But we were also inundated with messages of support from our members, followers, and the general public. We're very grateful for that.
It's your support that keeps us going!
Read the latest Rights News at this link!
View Rights News as a magazine