Dublin, 23 May 2018
Former Supreme Court judge Catherine McGuinness, Senator Ivana Bacik, and editor of Hot Press magazine Niall Stokes were amongst speakers at an event organised by the Irish Council for Civil Liberties (ICCL) which brought together people who campaigned against the insertion of the Eighth Amendment into the Constitution in 1983 and which took place at Dublin's Smock Alley Theatre last night.
Speaking at the event, Justice McGuinness said:
"In 1983 the Eighth Amendment was devised by a small group, with the backing of the Church, who convinced the main parties to adopt a legal measure that many of the leading lawyers of the time could see would bring great hardship and uncertainty.  The amendment was voted into the Constitution in a febrile environment. This was the era of the Kerry Babies and the death of Ann Lovett, and the 1983 referendum was part of the terrible hypocrisy that accompanied those tragedies. Sadly, we continue to observe this hypocrisy from commentators on the no side who directly opposed the Protection of Life During Pregnancy Act in 2013 and who now laud it as a panacea to all difficulties which a pregnant woman may face. However, I believe that the Irish people have now seen through the hypocrisy of the Eighth and they will vote on Friday to take back responsibility for abortion and women's rights in pregnancy."
Ms. Bacik said:
"A Yes vote on 25th May is vital because our legal experience over 35 years of the 8th Amendment is that there is no other way we can legally provide for terminations of pregnancy on grounds of fatal foetal abnormality; or on grounds of rape or incest; or even where a pregnancy poses a serious risk to a woman's health. It is long past time that we removed the absolute constitutional prohibition on reform, and allowed our democratically elected legislators to introduce an appropriate legal framework for the regulation of lawful termination of pregnancy."
Mr Stokes said:
"The only way to free the women of Ireland from this draconian, insulting paternalism is to Repeal the 8th Amendment. The only way to end a situation where sourcing an abortion pill carries the threat of 14 years in prison is to repeal the 8th Amendment. That, I believe, is what good, kind, caring, compassionate people will want to do, and will do, on Friday next."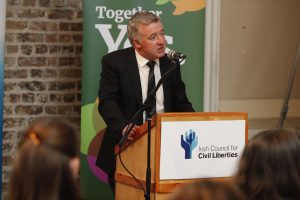 Director of the ICCL Liam Herrick said:
"It's remarkable now to look back at the Anti-Amendment campaign and to realise the prescience of those involved. They claimed that it would do nothing to provide support to women in crisis pregnancies, that it would not eradicate abortion in Ireland, that it would endanger the lives and health of women, and that it could actually kill women. Over the 35 intervening years, those predictions have all come to pass. Unless it is repealed, the Eighth Amendment will continue to cast its long shadow over the lives of women and girls in Ireland."
Legal experts Catherine Forde BL and Máiréad Enright as well as campaigner Pauline Conroy all spoke about individual cases, watershed moments and the shadow the Eighth has cast over women and girls' lives for the past thirty-five years. A multimedia exhibition, Women to Blame, which was curated by Therese Caherty and Pauline Conroy, showcased 40 years of struggle for contraception and reproductive rights. Excerpts from Aisling Malone's new documentary This Is Ireland were shown alongside clips from the archives, including a TV debate between William Binchy and former president Mary Robinson.