Dublin, 16 May 2019
Read our full annual report by following this link.
Referendum Campaigns
ICCL had a busy year in 2018, not least because of our campaigns in two seminal referendums – the referendum to repeal the 8th, and the referendum to remove blasphemy from the Constitution. You can read about these campaigns on p15 and p21.
In order to comply with referendum rules, we used our membership fees to fund both. We quite literally could not have done it without our members and we are very grateful indeed for their continued support. You can join ICCL here: iccl.ie/join
Outside of the referendums, we ran a number of other important campaigns.
Garda Reform
We made significant progress in our 40+-year quest for garda reform with the publication of the Kilpatrick report. The Commission on the Future of Policing echoed many of the recommendations in our report, and we continue to closely monitor implementation of same in 2019. Read more on p12.
Transitional Justice
ICCL made a significant contribution to the struggle for justice for survivors of institutional abuse. We called for a full exhumation at Tuam, as well as the immediate ratification of the UN Convention on Enforced Disappearances. We also made a submission to the Department of Health on their proposed deprivation of liberty legislation. Read more on p14.
Defending Activism
We were proud to be able to support both protesters and artists as they clamoured for human rights and were met with a heavy-handed state response. Our campaign to protect activism and civil society has become a cornerstone of our policy in 2019. Read more on p19.
ICCL commissioned Garreth Joyce to paint a mural for REPEAL (above) in solidarity with Project Arts Centre when the Charities Regulator order they take down Maser's iconic Repeal mural.
Your Privacy Rights
Ireland is now a global technology hub and with advances on that front come serious threats to our rights. Read all about our programme of work on privacy and surveillance from p22.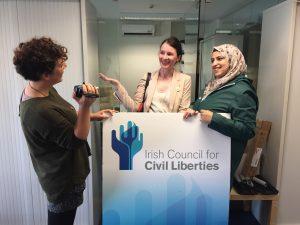 Want to support this vital work and more? iccl.ie/donate