At ICCL we believe in human rights and dignity.
We oppose anything that impinges on your fundamental rights. That's why we oppose Trump's policies and his visit to our country.
Here is just some of the work we undertake everyday to protect fundamental rights and freedoms. We can't do it without your support. Please consider donating.
Trump's policies are a direct attack on human rights.
Women's Rights
We campaigned for decades to have the ban on abortion removed from our Constitution. ICCL was in the front lines during the successful referendum campaign in 2018 and we are continuing to monitor the implementation of the new abortion law in Ireland to ensure women are provided with the services they need when they need them.
Trump has waged a devastating war on abortion rights both in the USA and abroad. One of his first moves in office was to end US government funding for organisations working on reproductive rights abroad. He has consistently promised to ban abortion and many States are now introducing highly restrictive laws. Alabama recently became the first State to ban abortions in all cases except where the woman's life is at risk. Their intention is to bring the case to the US Supreme Court to try and change the law of the country. They might succeed now that Trump has successfully appointed two anti-abortion judges to the Supreme Court.
LGBTI rights
ICCL was one of three organisations which led YES Equality, the coalition which successfully campaigned for a yes vote in the same sex marriage referendum in 2016. We consistently stand up for equal rights for the LGBTI community.
Trump has waged a war on transgender protections including through attempting to ban transgender people from the military and rescinding guidance on protections in the law. His administration has argued in the Supreme Court that businesses should be able to discriminate against LGBTI customers and that the law does not protect transgender people from discrimination in the work place on the basis of their gender. He also oversaw a policy change that saw family visas no longer issued to same-sex domestic partners of foreign diplomats or employees of international organisations working in the US.
Hate crime
ICCL is campaigning for a new law on hate crime in Ireland to ensure crimes with an element of racist or other hate fuelled motivation are properly addressed.
Trump deliberately stirs up hatred, for example by calling refugees and immigrants criminals and security threats. His ambivalence towards white nationalism is dangerous at a time when extreme right wing groups are gaining traction across the globe. Reports of hate crimes have risen in the US since Trump was elected. Discourse matters.
Judicial independence
ICCL believes in the vital importance of judicial independence and has campaigned for reforms to the Irish judicial system. We are monitoring the passage of proposed legislation on a new judicial appointments commission and a new judicial council in Ireland.
The American system allows for political judicial appointments and Trump has stacked the American judiciary with judges that reflect his biased and anti-rights views. He has nominated judges that include people rated "Not Qualified" by the American Bar Association. His appointments have been criticised as being based on shared views and not on merit, risking the independence of the American judiciary.
Rights based policing

ICCL believes that human rights based policing is vital for an accountable police force that treats everyone with equal dignity and respect. ICCL made a significant contribution to the recent report of the Commission on the Future of Policing and many of our recommendations have been accepted by Government and by An Garda Siochana. We are continuing to monitor the implementation of these recommendations.
Trump has failed to condemn police brutality and racist policing in the US. He has actively opposed reform of police forces in the US, including the Chicago Police, and his administration has rolled back investigations into rights violations by local police departments.
Torture and ill treatment
ICCL works against torture and ill treatment in all its forms. We are currently campaigning for independent inspections of places of detention in Ireland, including police stations, care settings and Direct Provision Centres. We are campaigning for the ratification of the Optional Protocol to the UN Convention against Torture, which would make such inspections by a National Preventive Mechanism mandatory.
Trump has flouted fundamental protections against torture and ill treatment. One of his campaign promises was to bring back waterboarding. His policy to send asylum seekers back to places where they are risk of torture and ill-treatment is an appalling breach of the US's obligations under the UN Convention against Torture.
Trump's administration separated 2,500 families at the US border in 2018. While a public outcry and court cases led to changes in policy, families continue to be separated, including in incidents where parents are deported without their children. Such policies cause untold immediate and long-lasting trauma for children and their families.
Freedom of expression
ICCL regularly stands up for freedom of expression including for freedom of the press and the rights of citizen journalists.
Trump has consistently attacked journalistic integrity in the US, including by banning some journalists from the White House, questioning "facts" and perpetuating the notion of "fake news" from established media.
Right to protest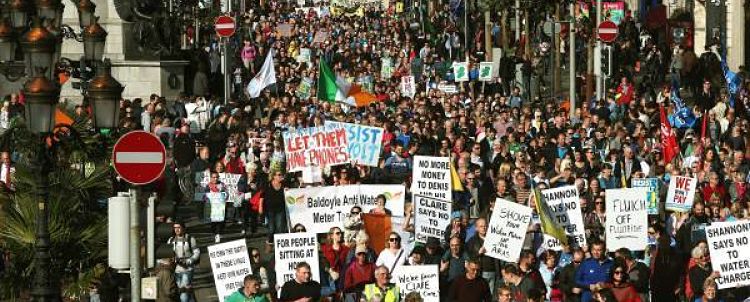 ICCL believes the right to protest is a fundamental right and we are working to promote and protect this right, including by creating a Know Your Rights Booklet, specifically directed at protesters in Ireland.
Trump has tried to restrict protest, including around the White House. In August 2018 for example, he proposed to close 80% of the footpath around the White House, limit spontaneous demonstrations and suggested protesters may be charged fees to protest. A peaceful march in November 2018 by migrants at the US/Mexico border ended with teargas projectiles thrown by US agents at protesters, including children.
International Human Rights System
We strongly believe in the importance of the international human rights protection system based on and around the UN Human Rights Treaties. We have actively campaigned for Ireland to ratify treaties, we submit civil society reports to treaty monitoring bodies and we support and monitor Ireland's participation at the UN Human Rights Council.
Trump appears to be trying to dismantle this system. He withdrew the US from the Human Rights Council in June 2018; the US has failed to submit reports to the treaty bodies; and he has ignored attempts by Special Rapporteurs to engage. This behaviour does not just weaken rights protections for US citizens. By undermining the system, Trump is weakening protections for all of us. This includes people suffering from some of the most egregious human rights violations in the world, who have no other avenues for redress and rely on the international protection system to both highlight violations and hold States accountable.
Privacy
ICCL accords particular importance to privacy rights, both online and off. We regularly make submissions to Oireachtas committees as they attempt to curb our fundamental rights online. We have also spearheaded a campaign to end the forced trading of personal information for essential services, somewhat ironically known as the Public Services Card.
Trump has publicly expressed support for bulk data collection. His policies have also meant that non-US citizens do not enjoy the same protections over their personal data as US citizens. This has potentially serious implications for all of our privacy since we still do not know the full extent to which our governments share intelligence. This is despite Edward Snowden's 2013 revelations about covert exchanges operating outside the rule of law.