Jonah Mudehwe 

Jonah Mudehwe has over 20 years' experience in management and leadership in the civil society sector.  Prior to coming to Ireland, Jonah held the position of Chief Executive Officer of NANGO, the representative body of non-governmental organisations in Zimbabwe. Prior to that, he was employed by World Vision Zimbabwe in different management positions. Jonah has also served on various boards for statutory and voluntary organisations such as the International Council on Social Welfare and the Private Voluntary Organisations Board in Zimbabwe.
Jonah has a Bachelor of Business Studies degree from the University of Zimbabwe. He also holds a post graduate Diploma and a Masters' degree in Development studies from Kimmage Development Studies Centre in Ireland. He is currently studying for his ACCA professional accountancy qualification. Jonah is currently employed as a Finance Manager by the Irish Refugee Council.  He has also worked in other voluntary organisations and the private sector in Ireland for five years.
Deirdre Miller
Deirdre Miller is an experienced not for profit senior manager with a proven track record in delivering business objectives across the areas of fundraising, campaigning, advocacy and overseas development programmes. Deirdre has worked for a number of well respected International NGOs including Oxfam, ActionAid and Trócaire. Deirdre has a masters degree in International Development from Dublin City University and is currently studying Law at the Dublin Institute of Technology.
JB Terrins
J.B. is currently NUI Galway's International Mobility Manager with responsibility for promoting staff and student in- and outbound mobility. From 2011-2016 he was Head of Business and Strategic Development at the Centre for Disability Law and Policy (NUI Galway) and managed relationships with funders including the EU, the UN, The Atlantic Philanthropies, the Open Society Foundations, LUMOS, the Asia-Pacific Forum, the European and Irish Research Councils. J.B. was previously Director of Alumni Relations with NUI Galway (2006-2011). He holds an MBA from the China Europe International Business School (CEIBS) (2005) and a BA Hons in Philosophy from Trinity College Dublin.
Andrew Forde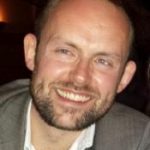 Andrew Forde was appointed to the Board of the ICCL in summer 2015. He is a political advisor at the Council of Europe, but has broad experience in both management and advisory capacities across the human rights and international development sectors. He has worked as a human rights advisor to the Council of Europe Commissioner for Human Rights, a human rights and governance officer with the Organisation for Security and Cooperation in Europe, and more recently served as Head of Operations/Deputy Head of the Council of Europe's Office in Kosovo. He has worked for the former Irish Human Rights Commission and has wide-ranging experience in the community and voluntary sector in Ireland and overseas. Andrew holds an LLM in International Human Rights Law and is a doctoral candidate at the Irish Centre for Human Rights specialising in human rights protection in areas of limited statehood.
Mary Lawlor
Mary Lawlor was appointed to the Board of ICCL on 24th April. Mary has a background of over 35 years' experience in human rights campaigning and advocacy. She set up leading international NGO Front Line Defenders in 2001. Prior to Front Line Defenders, Mary was Director of the Irish Section of Amnesty International from 1988-2000.
Maurice Manning
Maurice Man
ning was appointed to the Board of ICCL on 24th April 2017. Maurice is a former President of the Irish Human Rights Commission, as well as a former Senator and TD. He is currently Chancellor of the National University of Ireland. He has had a long careers as an academic, a writer and a politician and has served on several government and non-governmental
Marguerite Bolger SC
Marguerite Bolger is a Senior Counsel specialising in employment law and has appeared in many of the key employment cases before the Irish and European courts. She is a founder member and former Chairperson of the Employment Bar Association of Ireland, the current Vice Chairperson of the Incorporated Council for Law Reporting of Ireland and a member of the Editorial Boards of the Irish Employment Law Journal and the Employment Law Reports.  She lectures, comments and publishes extensively on employment law, including 'Employment Equality Law' (2012, Roundhall Thomson Reuters) and a contributing author to 'Employment Law' (ed. Regan and Murphy, 2017 Bloomsberry Professional).
Maria  Helen Murphy 
Dr Murphy lectures in Information Privacy Law and Information Technology Law at the postgraduate level at NUI Maynooth, and lectures in Media Law and Civil Liberties at the undergraduate level. She also supervises postgraduate students in the areas of privacy law, surveillance, and information technology law. In addition to completing her Irish Research Council funded PhD at University College Cork in 2013, Dr Murphy holds a magna cum laude LLM degree from Temple University (Philadelphia), and a First Class Honours BCL (International) degree from UCC.
Dr Murphy tweets about privacy, data protection, and technology law at https://twitter.com/maria_h_murphy.